Inca Spirit was formed in Miami twelve years ago. The name carries the ancestral heritage of Native American peoples, not just the Incas. The Inca name were chosen for their spiritual values and knowledge of the earth and cosmos. These musicians carry the spirit of ancient peoples. They have previously played for over two decades with other groups in New York City, Illinois, Colorado, Washington, California, Europe and Peru.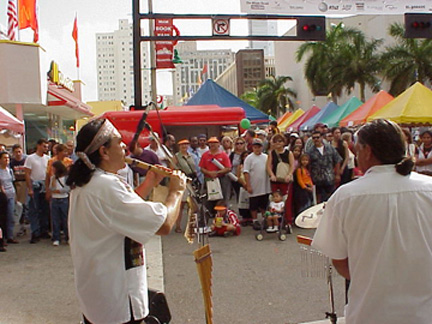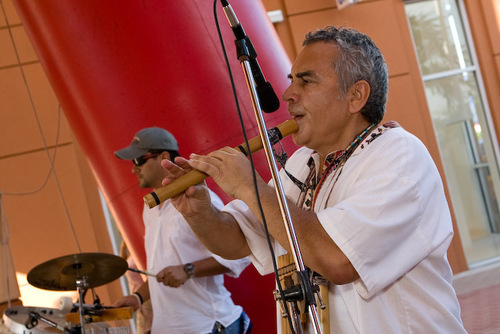 Carlos Llerena Aguirre, a native of Arequipa, Peru. He plays and makes wind instruments and drums. He also plays Afro-Peruvian cajon, congas, bombo and effects. He believes that making music is a form of ancient universal spiritual, mystic art. He played in Ecos Andinos and Tawantinsuyu in New York City in the late 70's. He is also a tenured Art Professor at the University of Miami in Coral Gables.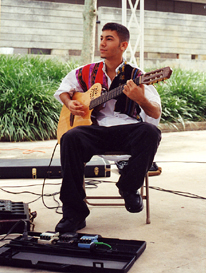 Antonio Llerena Aguirre, Peruvian american. Born in California, USA,  plays lead guitar/synthesizer. His love for new Flamenco, Latin Jazz and rock makes him a pivotal musician in the group. He composed and recorded all lead guitar and rythm guitar in the album Amazonas. Currently Antonio is recording  an album for Transmit Now.  

He graduated from Florida State University with a degree in International Studies. Currently he is the music director for the world tour of Blue Men:
ww.stuff.co.nz/entertainment/stage-and-theatre/79774479/Blue-Man-Group-musical-director-Tony-Aguirre-speaks-out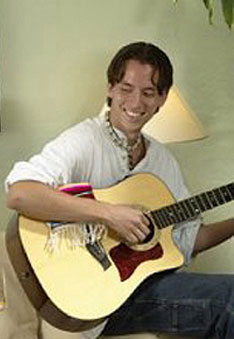 Edwin Itoh,is a truly skilled and versatile guitarist who has acquired the ability to play and teach in several different styles ranging from classical, to jazz, to popular, to rock, and beyond. Born in Cali, Colombia on April 1979, Edwin began his musical endeavors studying the piano at the age of 6. Early in his musical career, he had the opportunity to play percussion in the school symphony while at the same time developed an intense interest in the instrument that would become his true love, the guitar.
During 1996-98 Edwin studied jazz guitar at the New World School of the Arts music program under the direction of J.B. Dyas and Dr. Roby George. Upon graduation, he was immediately accepted to the University of Miami jazz guitar program under the direction of Randall Dollahan. It was during this time that Edwin also refined his skills as a classical guitarist and as a composer/arranger. In addition, he began passing his knowledge onto friends and eventually worked as a teacher.
Edwin has received various awards including the Down Beat Award for best jazz instrumentalist and has performed in the world's top music conferences including the International Association of Jazz Educators in New York and the Mid-west International Band Festival in Chicago. He has performed with various classical, jazz, pop, and rock groups including one of South Florida's biggest local rock groups Zeno. Edwin currently performs with two groups IncaSpirit and Inner Voice.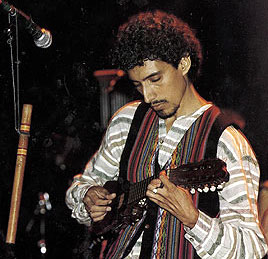 Carlos Ochoa, Native American born in Huacho, Peru, is a photographer and a professional musician. Carlos graduated from San Marcos University in Lima, Peru with a degree in social communications and Audio Visual. In Peru he belonged to the famous rock band LosVan. Currently he studies flute and music theory in Miami Dade Community College. He plays lead guitar and charango. His passion and knowledge of rock, latin jazz and tropical cumbias makes him a real fun lead guitarist for Inca Spirit. He performed for ten years with Bronce and the rock band, Pepe Alva y Alma Raymi, in Miami.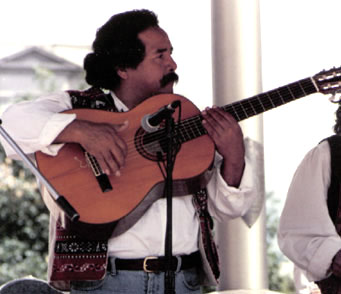 Augurio Quiroz, Native American Mochica from Paramunka, Peru plays guitar and charango. Founding member of the band Los Heraldos in Lima, they went to perform over ten years throughout Peru. Augurio is also a serious composer of several songs well known in Peru. Fifteen years ago he was a founding member of the group Markahuasi in California and Colorado, which still exists. He later joined the Huayno and Chuwa Yaku (Aguas Claras) in New York City, before moving to Miami. Currently he has moved to Iowa to record two albums of panflute music and will commute for special concerts.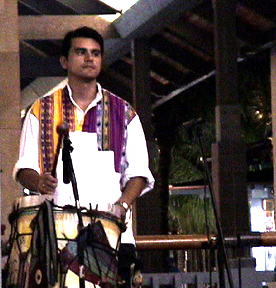 William Rincon, Native American born in Chikinkira, (near Bogota) Colombia. He plays all percussion, effects, bombos and bongos. He was a member of the group Raza Brava Internacional for 16 years in Colombia. The band performed throughout Colombia before he moved to Miami. William has been the life sustaining force behind Inca Spirit's percussion.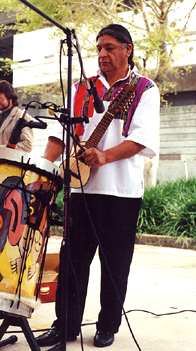 Victor Riquelme, a Native South American Pewenche born in Santiago de Chile, Chile. Victor plays bombo, charango and sikus. Fluent in French he joined the band Kantuta in Paris, France to perform in all European cities for over fifteen years. He moved to the USA and he played with the group Bronce in Miami before joining Inca Spirit. He is no longer with us but his spirit lives.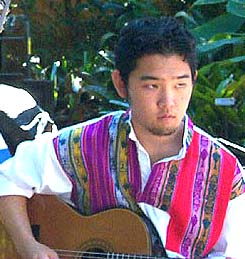 Rioji Yamaguchi, native form Tokyo, Japan. Rioji plays rythm guitar and lead guitar. He lived in Israel, Nicaragua, San Salvador and Mexico. He loves classical, flamenco, bossa nova and rock. He truly makes"fusion music." He studied classical guitar at the Music School of the University of Miami. Coral Gables. He is the founder of Caña and he holds a Master of Fine Arts in Music from the University of Miami. He is working on many projects now in Japan, Europe and Africa.
http://www.myspace.com/ryoji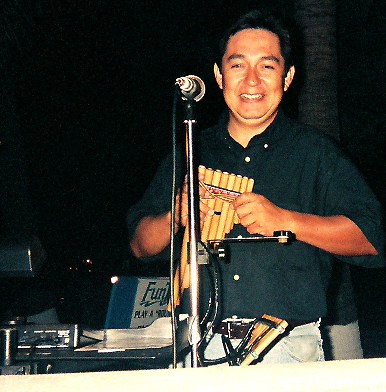 Juan Blanco, Peruvian musician founder and member of Vientos de los Andes in Peru and Boston. He plays charango, guitar, cajon and antaras.